OUR CHURCH GARAGE SALE
Saturday 11th January 2020
Congratulations to Pauline Read and her army of 50+ helpers who made our annual garage sale a resounding success.
We wish to thank all those people who donated clean goods, those who baked and those who spent many hours preparing for and working on our garage sale.
The following was raised:
Cake stall                                   699.10
Toys/games                            1,748.25
Hardware                               3,040.85
Books                                          835.50
Bric-a-Brac                              1,005.15
Morning Tea                              822.75
BBQ                                             738.35
Stamps                                        581.55
Plants                                       1,335.25
E.E. (everything else)            1,753.25
Donation                                      28:00
Total                                    $12,588.00
Less Dump Fees                         

40.00

Total                              $12,548.00
Adare Garage Sale - plants for sale
WHERE TO FROM HERE (January 2020)
ADARE CONGREGATION—NEXT STEPS.
The Church Council has appointed Rodger Bassham and Peter Manuel as coopted members of the Council.
It has also given thought to an appropriate response to concerns about choice of Presbytery, different understandings of marriage, and tensions in the Adare congregation, raised by some members.
These include providing opportunities for conversations, prayers, information sharing, questions and answers, and a renewed sense of coming together as God's people at Adare.
• At February 2nd service, we will be asked to think about and pray for the unity within diversity of people at Adare. This requires wisdomand grace
• In February offer two workshops (one in the daytime, the other in the evening) to hear the concerns of others, and to pray for one another.
• If some study or fellowship groups would like to learn more these matters, we will find people who could come to a meeting of your group.
• Hear a report from the first meeting of Presbytery B to be held on March 14, about priorities and a name change for that Presbytery.
• On April 5 after worship, have a special gathering to hear from leaders of Generate and Presbytery B about how they work with congregations, followed by a light lunch and opportunity for talking to each leader.
• Just after Easter (perhaps 3rd May) see if another Congregational Meeting should be called to consider the issue of Presbytery membership again.
Some of these dates are tentative since we have not had much time to make these arrangements. We need time to talk, pray and share together in the coming months. Please talk to me or other members of Council if you wish.
Rodger Bassham
Chair of the Congregation
WHICH PRESBYTERY? (info 15/10/19)
Dear Members, Ministry Agents, office bearers of the Uniting Church in South Australia
Thank you for your ongoing contribution to the life and witness of the Uniting Church, for your faithful response to the Gospel of Jesus Christ and your openness to the movement of God's Spirit.
As you know the Synod of SA has been participating in some restructuring to help strengthen our pastoral and missional support and resourcing of congregations and other ministries. At the June 2019 meeting of the Synod, two presbyteries were formed - the non geographic Generate Presbytery and the temporary Transitional Presbytery. In the weeks that have followed, over 600 people have participated in a series of conversations around the future of the Transitional Presbytery in the Synod of SA. The conversations which included a number of people from the Generate Presbytery, sought to actively listen to the voices of the church, about how they imagined the new presbyteries might reflect God's hope and purpose for the church.
The Restructuring Task Group has worked hard to prepare the landscape for multiple presbyteries. An extensive review of by-laws and rules associated with the separation of the One Presbytery One Synod model and the establishment of multiple presbyteries within one Synod has been necessary. This work has been undertaken by the Process and Implementation working group. Rev Sue Page has headed up this group. You will find some of the updated Synod By-Laws on the Synod website, as well as a working document exploring how the Regulations that guide the life of the presbyteries might work in our new structure on the presbytery restructure webpage. Much work and many conversations will need to happen as the new presbyteries form to clarify how each Presbytery will operate, and manage its life. Presbytery Rules will then need to be written. It is anticipated that this will take some time in the new year. As presbyteries form and discern how they want to work, the Associate General Secretary, and other Synod staff will be available to support and guide these conversations.
At a meeting of the Transitional Presbytery (21st September 2019) the Restructuring Task Group presented a series of proposals for consideration and discussion. The presbytery had opportunity to ask questions, raise issues of concern and affirm various aspects of the proposals. During October there is an opportunity for others to participate in a second round of conversations.
This letter is an invitation for you and your congregation or ministry context to give feedback. I appreciate the time is short and we are not asking for congregations to organise meetings or vote on the proposals. We are simply asking you to share the information with your congregation and encourage people to offer feedback and ask questions that might help you and the Restructuring Task Group to prepare for the meeting of the Synod in November. I have attached the draft proposals with some explanation and rationale for your consideration.
This letter is intentionally being sent to the whole church and we look forward to your feedback, by email, text, letters or phone messages. You can contact us: secretariat@sa.uca.org.au or phone 08 8236 4200. Following the integration of your feedback the Restructuring Task Group will prepare a final series of proposals for the November meeting of the Synod
Why establish multiple Presbyteries in SA?
Posted in Leadership
As of 1 July 2019, the Uniting Church SA will split the title Presbytery and Synod and just become 'a' Synod with multiple Presbyteries. After this date there will be two Presbyteries, namely Generate Presbytery and the Transitional Presbytery. These two Presbyteries will remain until the November 2019 Synod meeting when the Transitional Presbytery will be divided up into more Presbyteries – most likely two of them, split into geographical locations.
But why is this all happening? To answer this, first we have to understand what has happened in our history.
In South Australia, we have not always been a Presbytery and Synod. After inauguration of the Uniting Church in Australia back on 22 June 1977, there were seven Presbyteries within the Synod – Adelaide North-West, Eyre, Fleurieu, Frome, Mt Lofty, The Coorong and Wakefield.
This worked well for a while, but in some Presbyteries there was a need to appoint a Presbytery Minister. Office bearers were usually volunteers (not always) but as time went by it was difficult to find volunteers needed to fill all positions. The Presbyteries shared differing theological positions but when sexuality came to the fore there were contradictory positions. Establishing networks such as the Evangelical Members of the Uniting Church (EMU) supported the differing, even contradictory, views.
Assembly 2003 and the years following it
The Uniting Church in Australia meeting in 2003 brought Proposal 64. This was related to the acceptance of homosexual ministers. There was some angst in the church at this time and conversation began about moving away from several Presbyteries to ONE Presbytery. There was discussion around forming networks (initially 13, which decreased to 7) as a way of focussing on mission within the different networks but also as a response to Proposal 64 (Resolution 69) as a way of preventing a full split within the Synod.
After two years of preparation it was agreed at the 2005 South Australian Annual Meeting of the Synod that South Australia form one Presbytery within the Synod and that the Synod referred many of its powers (not all of them) to that Presbytery.
2017
The joint Presbytery and Synod structure had continued for years but at times, congregations felt there was a need for a review. This became evident in 2017 when a gathering of Networks, under the leadership of the then General Secretary, took a serious look at potentially developing a more regional structure for the Uniting Church in SA … not necessarily several Presbyteries, but this did seem likely.
Assembly 2018
At the Uniting Church in Australia Assembly meeting in 2018, a decision was made to recognise two forms of marriage, between two people and between a man and a woman. This decision evoked the need for people who did not accept marriage as between two people to have their own gathering. This was flagged at Assembly but then brought as a specific proposal to the Annual meeting of the Presbytery and Synod in November 2018. It was resolved to form more than one Presbytery which would include a non-geographic Presbytery, now known as Generate Presbytery. Generate Presbytery was not formed solely due to the marriage decision but with a host of other mission and discipleship factors.
Today
Since that meeting in November last year there have been two task groups hard at work forming new Presbyteries and dealing with the processes involved with separating out the Presbytery and the Synod so that new Presbyteries can be formed. Due to the complexity and length of time this takes to unravel the transitional Presbytery will exist only from 1 July to 16 November to ensure it is set up as an effective Presbytery/ies in the future.
Will the establishment of Presbyteries require more money?
Due to the Synod continuing to "exercise executive, administrative, pastoral and disciplinary functions over the Presbyteries within its bounds" (UCA Constitution Paragraph 32) the Restructuring Task Group has worked hard to ensure most administrative functions will remain within the Synod. This has been undertaken so that Presbyteries can focus on mission and not be overcome by administrative or financial burdens. A new Presbytery and Synod funding model has been agreed by Standing Committee which is based on the existing congregation contribution arrangements to the Mission and Service Fund and Mission Networks.
The Uniting Church SA 2019 calendar has a copy of the Mission and Service Fund budget which outlines the budget and the expenditure for Uniting Church SA and is a good reference point for how the Mission and Service Fund budget is spent.
Adare Church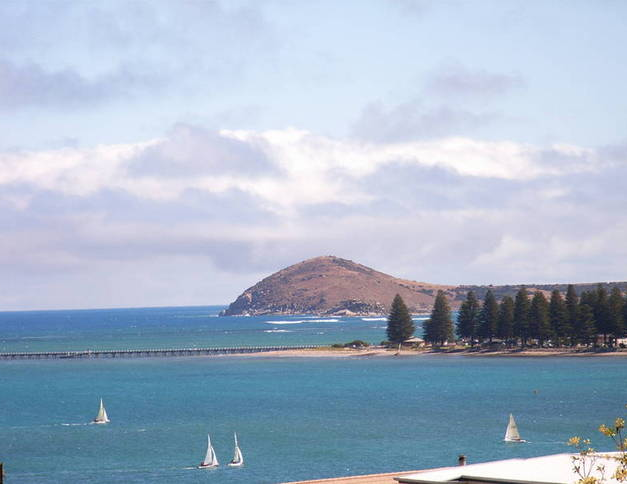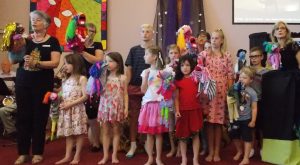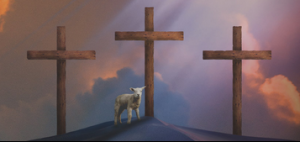 South Coast Christian Community Care
Di Foxy is our Adare church representative for SCCCC and recently reported to the congregation just how tough it is for some 'out there' during winter. Some are homeless; others have very little and are in need of basic resources.
Di is prepared to collect items to alleviate some of the anxiety and stress, and seeks our assistance. She has provided a list to guide us. All you need do is drop them off to the Adare Foyer (table), or see Di on a Sunday morning.
People need:
Food: Cash Donations: Blankets (normal or knitted or crocheted) Quilts: Pillows (new please); swags; pop up tents; beanies (adults and children); coats; jackets; gloves; thick track pants; hooded jumpers/jackets; Ugg boots (no scarves as they have potential for self harm).
Di is happy to knit (cuddly) toys for children, and gifts of 100 gm. balls of coloured wools would be appreciated, as is stuffing (from pillows if you wish).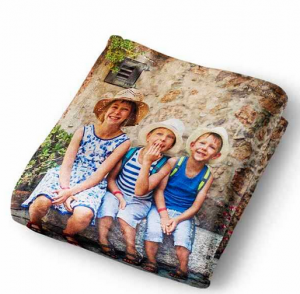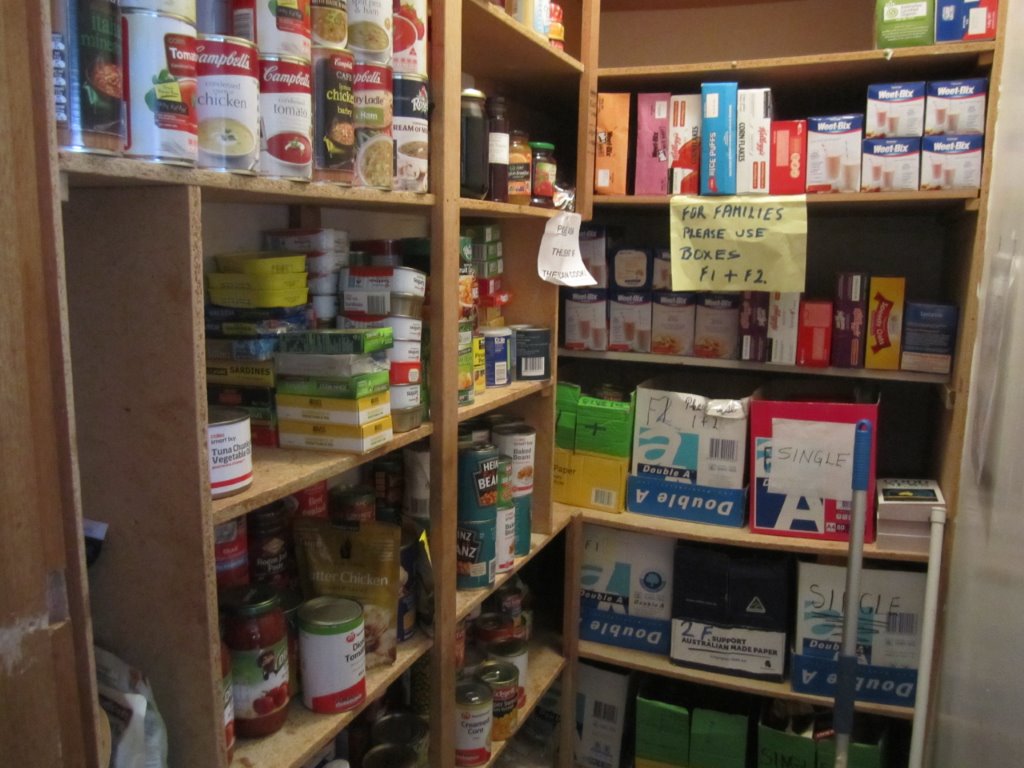 SCCCC Pantry
Church Council Elections 2019 for 2020

The following people have were elected to church Council.
Anne Craig (two years)
Alan Field (one year)
Pat Keep (three years)
Ruth Williamson (three years)
The following people still have one year tenure left
Wayne Abbott
Graeme Koch
Neil Pontifex
Jill Sprigg
NOTE: Following the results of the Congregational vote on Adare's choice of Presbytery, the following people have resigned form Church Council:
Neil Pontifex

Pat Keep

Graeme Koch

Jill Sprigg
To assist in  moving matters forward, Rev Dr Rodger V+Bassham mand Dr Peter Manuel have been seconded in the short term to Church Council.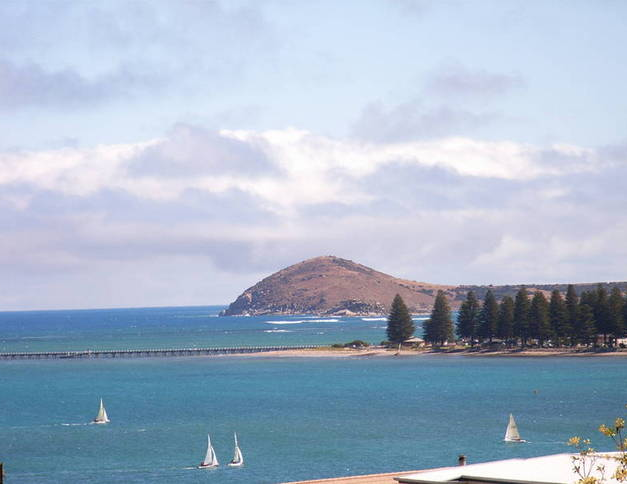 PRAYER GROUPS
Adare Church conducts regular prayer meetings twice a week, coordinated by Peter Cranwell.
They are held:
Sundays from 3:30 pm – 4:30 pm and
Tuesdays from 7:00 am – 8:00 am.
Both groups will be based within the church sanctuary.
The prayer format will be based on the Conversational Prayer style. Everyone is welcome: there is no requirement to be able to pray out loud.
Please contact Peter Cranwell for more details.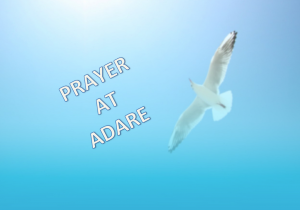 When you feel depressed and want someone to listen, why not talk to God?
KAIROS MINISTRY:
Click here to learn about Kairos Ministries and how Adare Uniting Church can make a difference in the lives of those currently in prison. We can be part of providing hope for those who will exit from prison to again be part of our community.
ADARE CHURCH CAMP 2019
Our Adare church camp for 2019 will be at the Mannum Caravan Park on Friday 5th, Saturday 6th and Sunday 7th of April. If you haven't booked your site or cabin yet please do so ASAP by ringing the Park direct on 8569 1402. If you haven't been before and would like some more information, please speak to Lesley Mableson, Heather Osborne or Ruth Williamson. If you are new to Adare, the camp is a wonderful opportunity to get to know people. All are welcome
CHRISTIAN RADIO
Tune in to 87.6FM and enjoy a vibrant mix of contemporary Christian music, encouragement and positive practical talk on real life issues.
Christian Radio